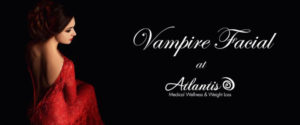 Schedule a Vampire Facial & Receive a Tri-Phasic White Radiance Mask FREE
($75 value for 1 month supply)
Plus, 20 FREE Units of Botox
OCTOBER 24 THROUGH 29

 ONLY
Skin feeling like a 1000 year old dry mummy face?
The Tri-Phasic White Radiance Mask is a pre-moistened, skin brightening mask that helps reduce skin discoloration and maintain a translucent skin tone.
Use this mask twice a week, at home, as maintenance to enhance your Vampire Facial results.
Let's Talk BOO-nuses!
For EACH friend you refer, who purchases a Vampire Facial, receive 4 weeks worth of Tri-Phasic Radiance Mummy Masks! Vampires never age. Their secret? THE VAMPIRE FACIAL. 
During the procedure, growth factors are isolated from the patient's blood. Then, the provider uses a micro-needling device to create multiple micro-punctures –both driving the isolated growth factors into the skin and creating stimulus for tightening and rejuvenation of the collagen of the face. The provider then paints the growth factors onto the micro-punctures causing the growth factors to soak into the tissue for further stimulation of tightening and skin rejuvenation.
You are a candidate for the Vampire Facial, if:
1. Your skin color is more gray because of less blood flow
2. You have fine vertical lines around your mouth
3. Your skin texture  becomes less smooth. As a result, you look "worn", or "tired" or even "droopy"
4. You have scars from trauma, acne, or chicken pox
Call to schedule your appointment – (301) 622-2722