SmartLipo, Laser Assisted Liposuction in Maryland, Virginia & Washington, DC
SmartLipo is a procedure that involves removing excess fat from your body. It is used as a form of body contouring and sculpting to help you get the body shape you've been looking for. It is not meant as a form of weight loss, but to get rid of fat in those areas that are prone to storing fat no matter your diet or exercise program.
With smoother results, fewer complications, and faster recovery, SmartLipo may be the reason liposuction is the number one surgical procedure in the U.S.
Before/After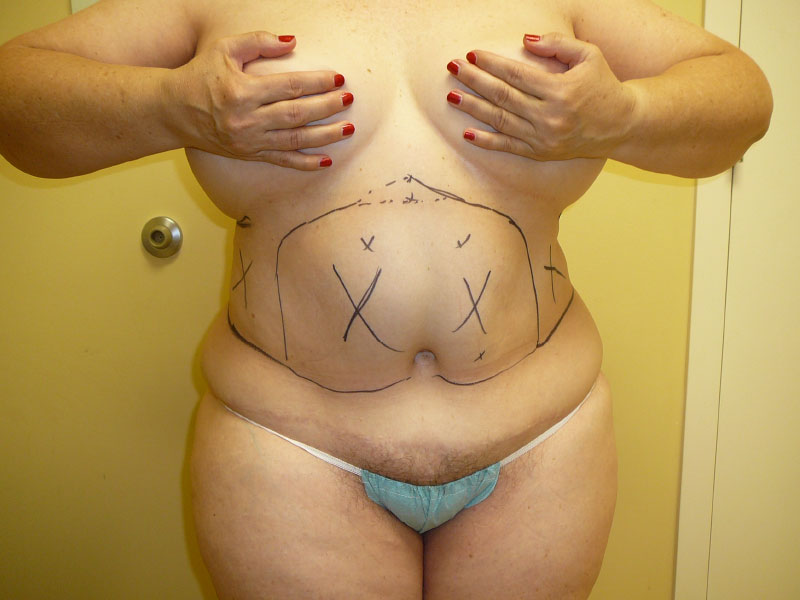 What is SmartLipo Body Sculpting – The Laser Assisted Liposuction Procedure
The Smart Lipo fat reduction treatment received clearance from the FDA (US Food and Drug Administration) in November 2006. The technique involves the use of a laser to rapidly dissolve the fat and tighten the surrounding skin almost anywhere on the body. The majority of individuals who receive SmartLipo treatment have minimal bruising and remain pain-free. After the procedure, depending on the area treated, a pressure dressing or a compression garment is worn for three to five weeks. All individuals are able to resume their normal activities within 24 to 48 hours. NO GENERAL ANESTHESIA is needed.
He will determine whether or not you are a candidate for SmartLipo
Get a quote based on the areas you will have done
Surgeries are scheduled on Mondays-Thursdays and some Fridays
Deposit is required to schedule your surgery date
About a month before your surgery
Measured for compression garments
Review all Pre-op and Post-op instructions
Traditional vs. SmartLipo
The SmartLipo laser assisted liposuction technique offers a long list of advantages over traditional liposuction
Using local tumescent anesthesia instead of general anesthesia eliminates prolonged recovery, nausea, allergy risks and other general anesthesia related side effects.
Fine laser assisted liposuction techniques allow for skin tightening and smoother results.
The recovery time of laser assisted liposuction is shorter and there is less blood and fluid loss.
Use of antibacterial lidocaine may reduce the chance of infection.
The swelling or tumescence of the fatty deposits amplifies the targeted areas for liposuction, thus reducing the risk of a secondary procedure.
The new cannula design with tumescent liposuction reduces bruising and swelling after surgery.
Smaller incisions result in less scarring.
The average cost for SmartLipo treatment can be between $2000 and $8000 depending on how many areas need to be treated, the size of each area and patient medical history.
What to Expect After SmartLipo
After your surgery, your designated driver will take you home. You will be prescribed medications and will rest for the duration of the afternoon/evening. The following day, you will come in for a follow-up appointment. After 2 weeks, you may be advised to have an Ultrasound treatment or lymphatic massageto reduce swelling, bumps and bruising. However, these additional treatments are optional.
During the next 3-4 weeks you will wear a compression garment 24 hours a day, only removing the garment to change dressings and bathe. After this period, you will wear your garment 12 hours a day for 2-3 weeks. Usage of this garment, will aid in the healing process and will deliver optimal results.
Two months following your SmartLipo procedure you will visit Atlantis Medical Wellness Center for a second follow-up appointment.
Who

is a candidate for

SmartLipo?

Smart Lipo is a great choice for those:
Looking to sculpt and contour their body but don't want the hassle that comes along with traditional liposuction.
Who can't seem to lose the fat in certain areas, such as abdomen, thighs, back and arms, no matter how hard they diet and exercise?
Next Steps
If you're ready to get the body you deserve and have always dreamed of, call us for a Smart Lipo consultation. Our consultation fee is $85. This fee can be applied to your Smart Lipo treatment if scheduled within 3 months.
Contact us to learn more about Smart Lipo in Maryland, Virginia and Washington, DC today at (301) 622-2722!